Where Lethbridge Plays Golf
Since 1963, Bridge Valley Golf has been Lethbridge's affordable family golf destination. Sheltered in the river valley, this 9-hole par 3 course offers the perfect setting for golfers.Learn to play or improve your game on our practice facilities from the swing to the short game.
Welcome to Bridge Valley Golf

Par 3 Course
Great for beginners or experienced golfers! Open daily from 8 a.m. until sunset. Book a tee time that suits you.

Driving Range
Grab a bucket and practice your swing on our beautiful open driving range in the river valley. It's often less windy down here.

Lessons
Lessons are available with our PGA of Canada Certified Instructors – book an appointment today!

Mini Putt
Perfect for a family outing, date night or after your round! Test your putting skills on our 18-hole mini golf course.

Play, learn, or practice your golf game
We are proud to offer the perfect place to learn to play golf. With facilities to help you improve your swing, short game, and putting, you'll leave a better golfer.
Bridge Valley Golf Amenities
9-Hole Par 3 Golf Course(1,318 yards)
Driving Range(Brush Mats and grass tees)
Brand New Renovated Clubhouse


Green Fees & Rentals
Check out our 10 round discount card and special rates for juniors and seniors.
10 round discount card – Transferrable & No Expiry
Twilight round – check Twitter for monthly twilight start time
Senior Green Fees – 65 & Over
10 round discount card – Transferrable & No Expiry
Junior Green Fees – 17 & Under
10 round discount card – Transferrable & No Expiry
Clubs & Cart (3,5,7,9 & Putter) Each PLayer Must Have a Set of Clubs
Important Notes:
Tap Debit or Credit Preferred
Pre-booked tee times only. Walk-ons may be permitted as tee times allow.
No caddies or tag alongs – players ONLY on the course
Each player must have a set of clubs
NO REFUNDS – Rain check policy: if you did not complete at least 6 holes, you get another full round of 9 holes; if you completed 6 holes or more but not a full round, you get to play another 4 holes (holes #1,2,3 & 9)

Driving Range & Mini-Putt
Practice all summer with our 10 or 20 basket discount cards!
Basket of Balls – 50+ Balls
10 Basket Discount Card – Transferable & No Expiry Date
20 Basket Discount Card – Transferable & No Expiry Date
18-Holes – Includes Souvenir ball & Putter Rental
Important Notes:
Tap Debit or Credit Preferred
Pre-booked tee times only. Walk-ons may be permitted as tee times allow.
No caddies or tag alongs – players ONLY on the course
Each player must have a set of clubs
NO REFUNDS – Rain check policy: if you did not complete at least 6 holes, you get another full round of 9 holes; if you completed 6 holes or more but not a full round, you get to play another 4 holes (holes #1,2,3 & 9)

Lessons
Lessons available with PGA of Canada Certified Instructors – by appointment only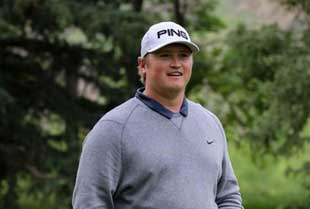 Chris DiPasquale – 403-795-6666
Private Lesson (30 minutes), Playing Lesson (about 1 hour), Group Lessons – available on request